Canberra Airport's goal is a simple but ambitious one – to be the best small airport in the world.
With a stunning, modern terminal, thriving business precincts and daily international flights, Canberra's world-class airport is well on the way to achieving this goal.
Canberra Airport is managed by Capital Airport Group Pty. Ltd (CAG), which purchased the Airport from the Commonwealth Government in May 1998.
Formed initially by Canberra businessman Terry Snow and his son, Stephen Byron, the Capital Airport Group's background was in the development of quality commercial properties in Canberra and Sydney.
From a small airport surrounded by sheep paddocks, CAG has transformed Canberra Airport to a thriving precinct. Today it comprises of the terminal, Fairbairn RAAF base, Brindabella Business Park and Majura Park, which includes Majura Park Shopping Centre, home to Australia's largest Woolworths and Canberra's only Costco.
CAG is also responsible for Canberra's most remarkable new suburb – Denman Prospect and Constitution Place, a $300 million development in the heart of Canberra City.
Canberra Airport boasts several award winning buildings including the Vibe Hotel, 14 & 16 Brindabella Cct and, of course, the stunning airport terminal.
CAG is strongly committed to design and public art, with sculptures and works of art dotted throughout airport terminal, neighbouring business precincts and Denman Prospect. These range from large installations by world-renowned artists such as Andrew Rogers, Phil Price and Virginia King through to a delightful collection of aluminium planes made by local school children.
THE AIRPORT PRECINCTS
Since privatisation Canberra Airport precinct now comprises the airport terminal and Fairbairn RAAF base, as well as Brindabella Business Park, Majura Park, Fairbairn and Pialligo Precinct, all of which have undergone extensive development.
The Terminal
With an investment of $420 million the all-new Canberra Airport terminal opened on 13 March, 2013.
The new terminal covers more than 55,000m2 and includes:
3300 car parking spaces
10 passenger aerobridges
34 check-in counters
6 baggage carousels
taxi rank with indoor passenger waiting area
a number of food, beverage and retail offerings
environmental initiatives that put it on track to become the "greenest" airport in the country.
Brindabella Business Park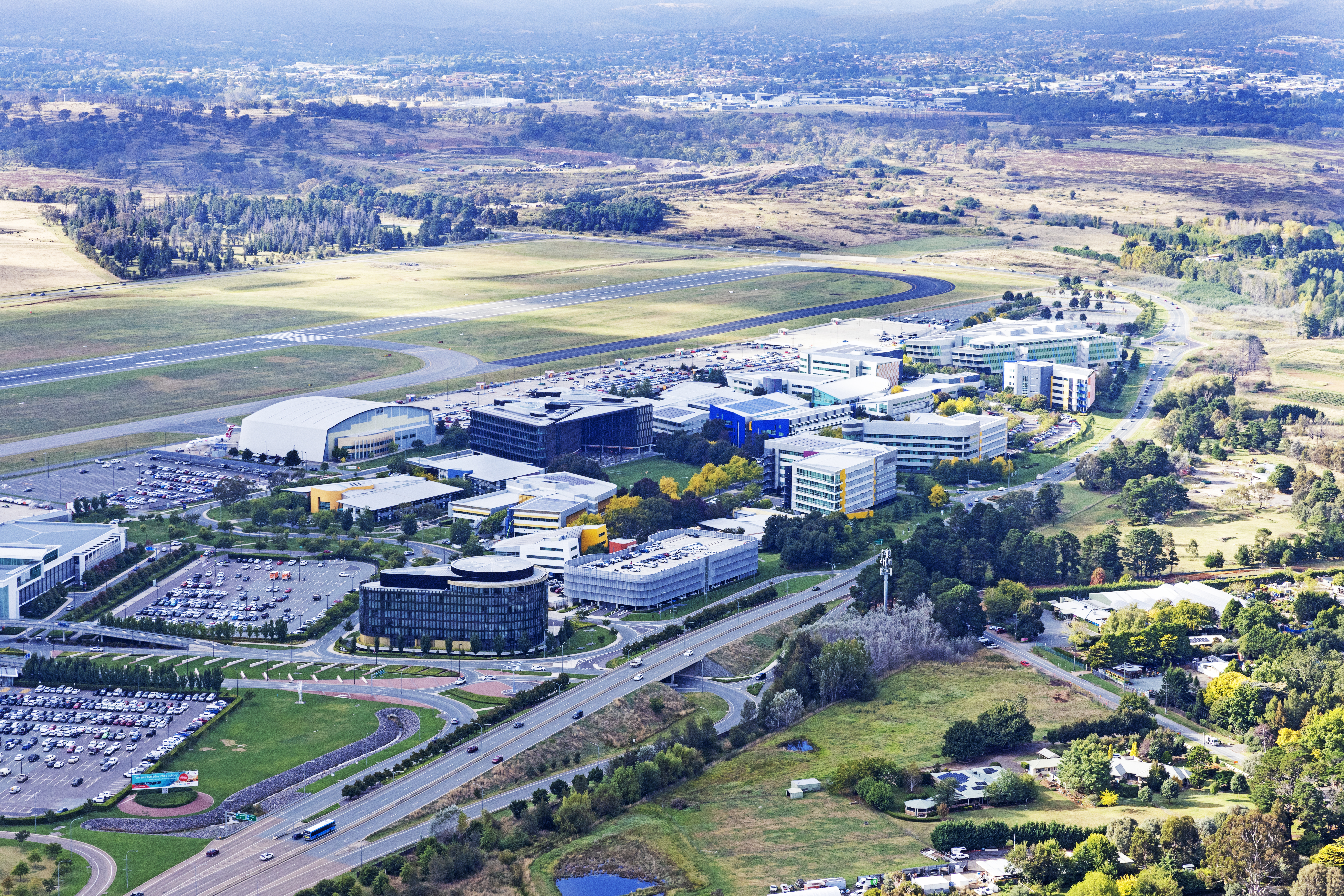 Brindabella Business Park is a first-class, professional precinct, adjacent to Canberra International Airport.
Considered to be one of Australia's most environmentally sustainable business centres, Brindabella Business Park is made up of 18 world-class commercial buildings designed with the highest level of amenity, culture and sustainable design.
Unlike typical business parks, the Brindabella precinct has developed a rich culture, distinct sense of community and has outdoor, retail and medical amenities that help employees achieve work–life-health balance. The business park boasts a childcare facility, service station, gymnasium, numerous cafe and restaurants as well as sporting fields; all of which make it an ideal business environment.
Majura Park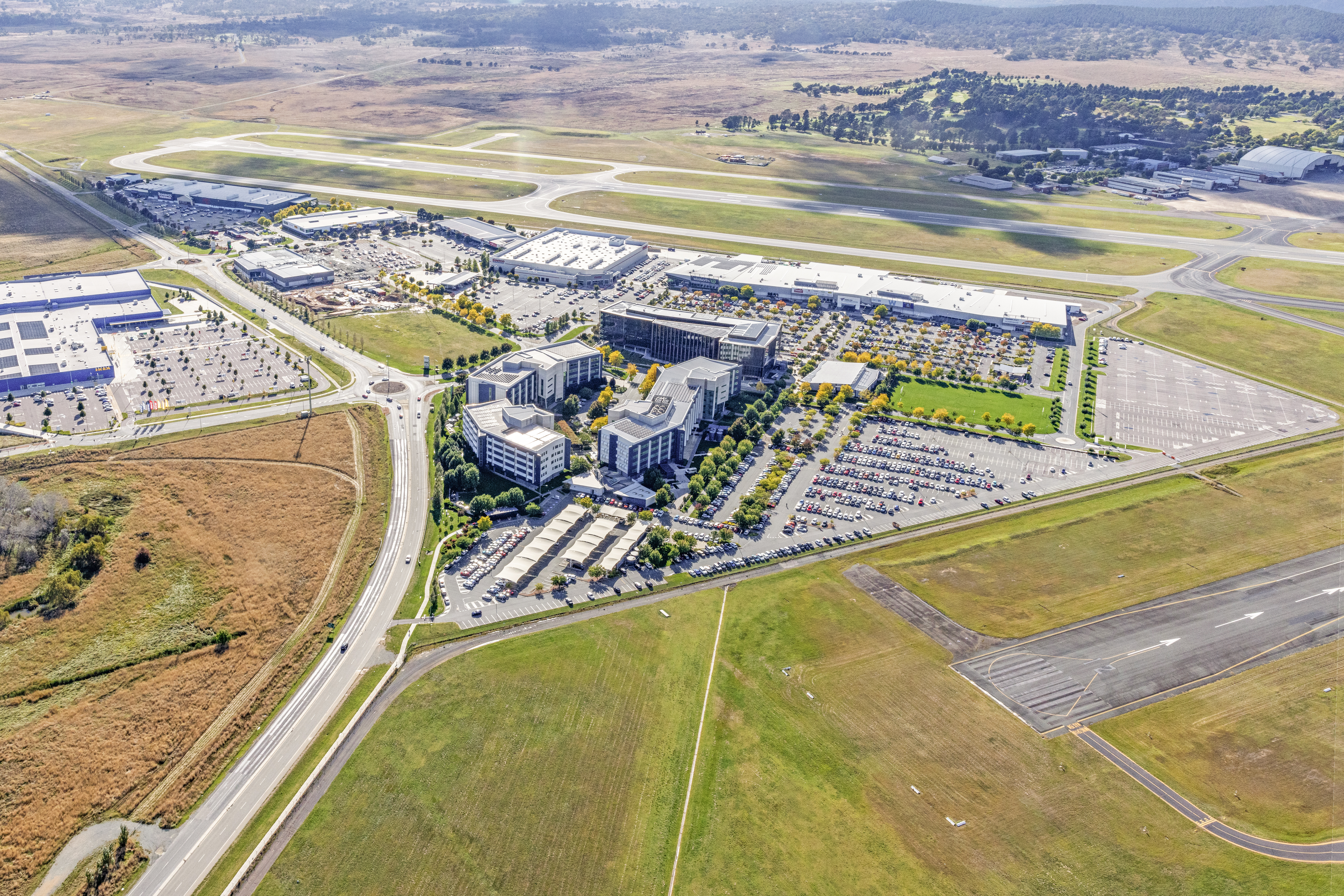 Majura Park is located in the north-west sector of the airport precinct and is home to our town centre. With sustainably-built office buildings, beautiful landscape design and considerable amenities, it hosts a shopping centre, swimming pool, a purpose-designed medical centre, childcare, cafes and conference and meeting facilities.
Majura Park Shopping Centre is anchored by one of Australia's largest Woolworths, plus Big W, ALDI, Chemist Warehouse, Telstra, Westpac, Lollipop's Playland and more than 30 specialty stores including a 256-seat food court.
In addition to those retailers in the shopping centre, the broader Majura Park precinct includes Canberra's only Costco Wholesale warehouse as well as Bunnings, Dan Murphy, Trek Bikes, Autobarn, Green Cross Vets, Macpac, Pet Barn, Pillow Talk, McDonalds and a Tesla Supercharger station.
Fairbairn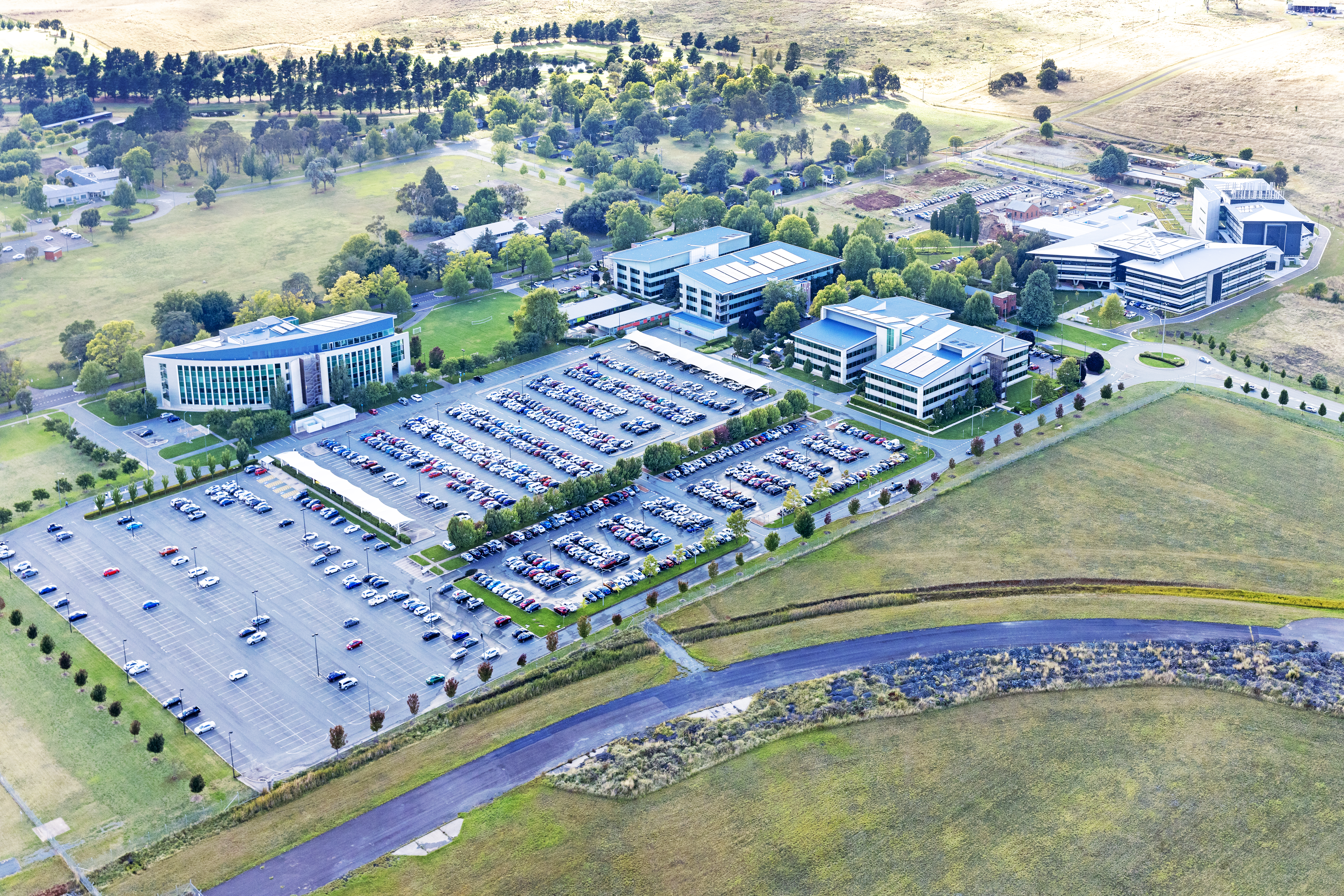 Fairbairn is the third commercial precinct at Canberra Airport with a rich heritage and charm featuring iconic Canberra red brick buildings and a heritage rose garden.
It is home to some of Canberra's most significant private and government organisations including a current RAAF base and several high-tech businesses.
Tenants enjoy a wide range of services and facilities including ample car parking, public transport, cafes, a functions centre plus many sport and recreation facilities including an 18 hole golf course, basketball court, volleyball court, tennis courts, BBQ facilities and ample space for a lunch time walk or jog.